Kideaux
Ski Safety with Kids- Tales of a Lost Kid and How I Didn't Lose Sight of My Kids Again
Picture it- Your child is finally good enough on the slopes to go a little ahead of you and not be shadowed, so you sit back and enjoy the view for second, getting distracted by the skier that just tripped on the other side of the run (you can admit it, you laughed a little at the Jerry). You look back down the slope to find your awesome little shredder...except, you can't see them. Where'd they go? Why are there all of a sudden 10 kids that look like they're wearing the same coat and pants?! So you frantically start skiing/boarding down the slope towards any kid that looks even remotely like yours, giving them all a scare as you get close enough to see they're the wrong kid and quickly beeline to the next potential target.
I'll Admit It-
We've all been there. It's not fun and it's not something that people really talk about. I don't really blame them. It requires admitting that we didn't stay 5 feet behind our child for every second of every run. I haven't met one parent that hasn't experienced that feeling (when asked directly under threat of perjury), even if it's only for a few seconds. I'll admit it though. Yep, I lost my daughter for at least half of a run. When I lost sight of her, I skied down farther to see if I could see her around a bend, thinking she didn't stop at the place I told her to. When I still didn't see her I kept skiing farther down. Unfortunately, I had skied right past her. She'd stopped exactly where I told her to, but I didn't see her because of the other skiers and boarders and she blended in. So she ended up chasing me down the slope. Not my best parenting moment, that's for sure. Yet it happens more than everyone likes to admit.
So how do we prevent it from happening? Shameless plug in 3…...2…….1……
Problem Solved!
We solved this problem by making the Kideaux Dragon Ski and Bike Visibility Pack. Yes, we were those parents that were so tired of our kids getting hit and dealing with the stress of trying to keep them safe and SEEN that we literally strapped a pair of water ski flags on a backpack and gave it a go. Unfortunately, water ski flags freeze when exposed to ski slope temps (who would've thought!), but the concept worked. So we refined it and made it fun (who doesn't want to be a DRAGON flying down the slopes??).
And guess what? IT WORKED! Like, really well, way better than we expected. So well that people were calling to them from the chair lift. Skiers and snowboarders would cross over to the other side of the run because they could clearly see the kids (and would, rightly so, avoid being anywhere near the unpredictable little shredders as if they had the plague). We could let them ski ahead quite a ways so that we could watch their form and turns (and yes, even have the chance to ski ourselves for little stretches). They were so visible that it was impossible NOT to find them within seconds of scanning the slope.
Join the Other Happy Families-
And other families that are using the Dragon experience the same awesome Dragon effect. The confidence of knowing your child is being SEEN. The confidence their child feels because collisions and close calls are virtually eliminated and they can ski safely and focus on their skills. The fun that comes from skiing with your kids without the worry of having to ski inches from the back of their skis or board.
Try it out and see for yourself how much it will change the experience of skiing with kids. Or you can keep playing "Guess That Skier" with every child in a bright coat...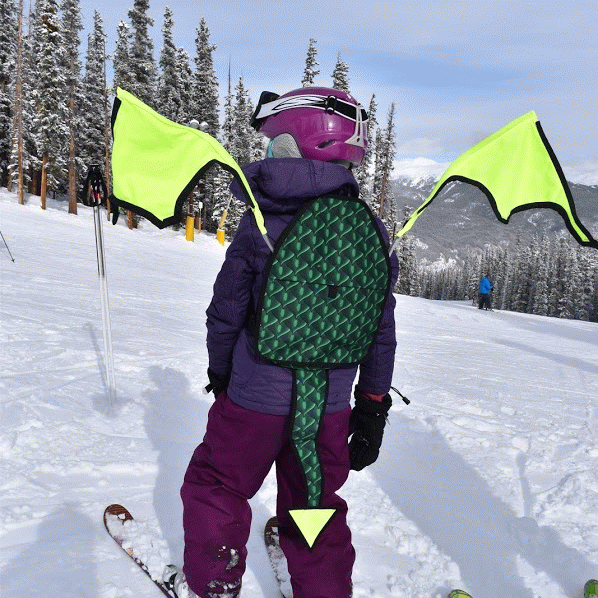 Easy to Use and Make Chair Lift Safe