What is the
Kideaux Dragon?
The Kideaux Dragon is a pack that makes your child VISIBLE. That's it. Bright, reflective wings that flap in the breeze and draw the attention of everyone around them.
For Skiing, Biking and more
Child Safety Doesn't Get More Fun!
"We absolutely LOVE using the Dragon! Our son refused to ski without his wings because he felt so much safer.
"After having a severe concussion from a collision, we won't ski without the Dragon Pack on our kids; it's a GAME CHANGER!
We LOVE it! We went without your amazing Dragon Pack and she got taken out by a skier; you really notice her and she STANDS OUT more when she is wearing it.
"We absolutely love the Dragon!! This helped us see exactly where she was at all times and made it so easy! Really is a GREAT PRODUCT!
SKI AND BIKE READY IN SECONDS
The Kideaux Dragon is designed to be super easy and fast to use. Whether you're teaching your small child to ski, snowboarding with your older kiddo, or riding bikes with your kids, you'll find it's the must-have product for skiing and biking with kids. We didn't want to stand around fiddling with the wings and we figured neither would you! Keeping your kids safe while skiing and biking has never been easier or more fun!
SKI CHAIR LIFT READY IN SECONDS
Yep, you got it, it's fast and easy
No one wants to miss that vital spot in the ski lift line, especially when skiing with little kids, so we designed the Dragon to be insanely fast and easy to be ski lift safe and ready. Saving you precious seconds to get that position in line. All while wearing gloves!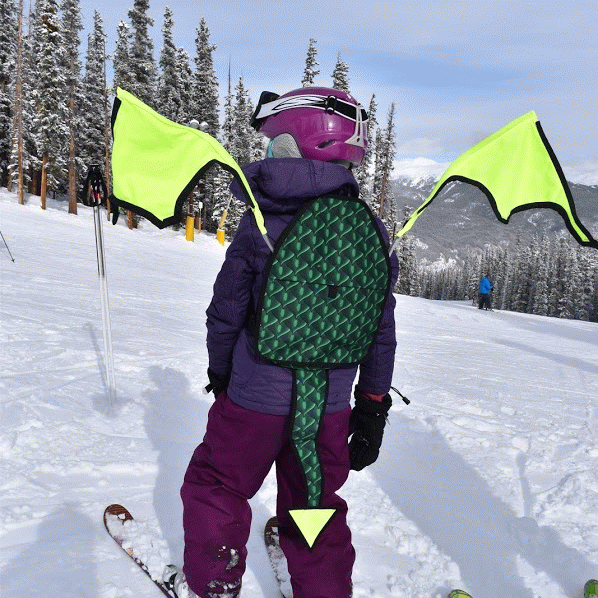 Easily Go From
the Mountain
to the Sidewalk
It's as simple as leaving the tail tucked
The Kideaux Dragon works just as great at keeping your child safe while riding bikes and scooters. With its bright, reflective wings your child is visible to cars much sooner, which makes this a must have for when the snow melts. Just keep the tail tucked and you're ready to ride!
More Than Just Skiing
From the
Ski Slope
to the Sidewalk
The Kideaux Dragon easily switches from the snowy mountain ski slopes to the city sidewalks.